It is finally upon us.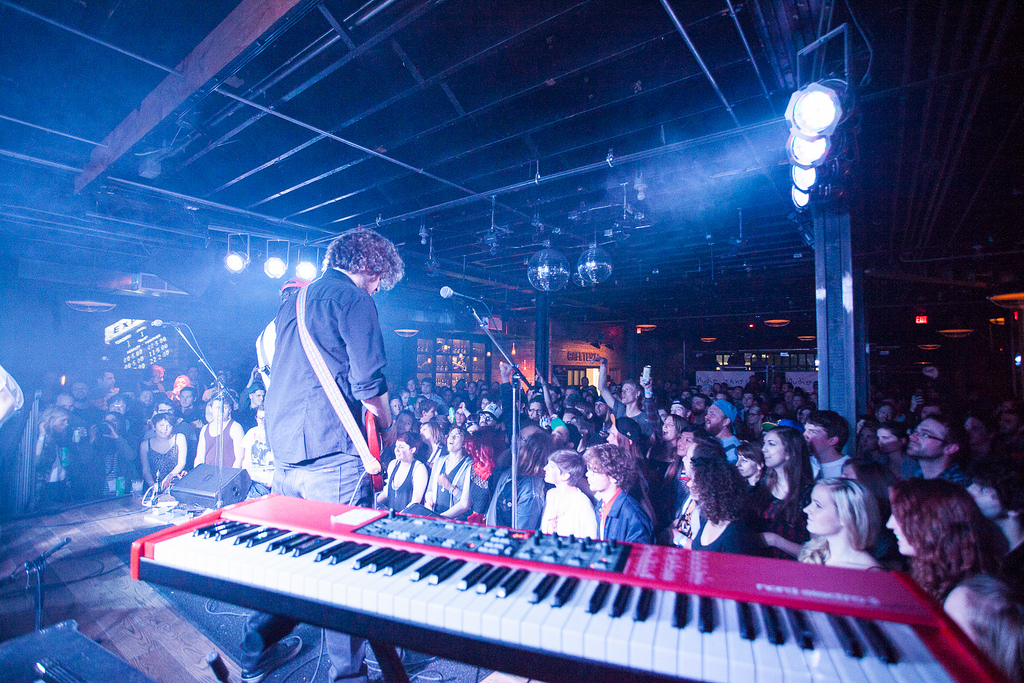 Source: Sled Island
Sled Island returns this week for 4 days (June 18 - 22, 2014) of music, comedy, arts and general celebration of life. Featuring over 200 bands, 30 venues and a healthy dose of pro-inner city attitude, Sled is one of Calgary's gem festivals. After being devastated by the 2013 Floods, there was talk of Sled Island not returning. They suffered enormously financial through cancelled shows and flooded venues. It took dedication and the donation of many ticket holders' deposits to keep Sled afloat in the rising waters. Another story of the Calgary spirit that helped the city recover from the destruction.
A festival like Sled is more than time to have a few beers and catch new music. It really comes to represent a counter-point to many of Calgary's perceived weaknesses.
Tired of the corporate presence in the countless Stampede parties of giant oil companies and money being flashed around? Sled Island venues cost a fraction of a typical pub-crawl or beer garden and you don't have to talk about money or business. You also won't see a spike in 17th Avenue fist-fights, bro-culture and pointless aggression that is commonplace at a much more famous Calgary festival each July.
Tired of endless sprawl and the banality of suburban life? Sled Island doesn't have a venue further that a kilometre or two of the Calgary Tower. This is something that suburban lifestyle simply can't provide. The festival relies on the urbanites of Calgary to support it. Something with such a diverse and expensive schedule needs participants to travel to 5 venues in a night, not one and commute back to the sleepy burbs. A Beltliner may frequent 5 shows this week with no effort, spending money and making a diverse set of businesses successful. A commuter showing up for one evening - while still welcome - is not keeping these awesome venues profitable as they rarely will visit as often. Inner city residents will.
Local indie drug store Luke's Drug Mart pre-Sled Kick-off Show with
Shad, Tacocat, Night Committee, Deadsoft & Kris Demeanor.
Shad @ Luke's
Tired of pick-up trucks and frustrating commutes? Sled Island installs countless bicycle racks and is one of the largest promoters of the City's bicycle program. In fact, in years past the City of Calgary has used data provided by Sled Island on where the most bicycles were accumulating to guide their program of provide bicycle racks on inner city side-walks. Ever wonder why Ship and Anchor or Broken City have so many bicycle racks? Sled Island.
To compete a city has to be a place for everyone, with any interest or hobby. If a city fails to do this, it risks losing those people to other places who are doing it. Every person that leaves Calgary for some place "cooler" or "more interesting" is one less person to support local business, participate in festivals or create something interesting on their own. Sled Island is exactly the type of event that can counter that; an event that promotes everything against mainstream Calgary. That is a good thing.
Calgary needs Sled Island. Sled Island needs you. Go out and do something weird, see some strange music and talk to the weirdos you'll inevitably see at any of the venues.
Look at these weirdos I met at a Sled Island Bicycle Scavenger Hunt. Awesome.
Also the after party had fire-spinners and a guy in a tree. How cool is that?